Artisanal Artistry
With a love for all things exquisite, over the years, I have curated what I see as a haven for the unique. In a buzzing climate of exponential growth in the material world, I would like to take a minute to honour the artisans, without whom none of this would be possible. Artisans, myself included, are a special breed! Our minds are sponges, continuously soaking up ideas and dreaming, often spending many hours on an idea before it is even put down on paper. The amount of work behind creating a piece of art on any scale is astounding and the thought process can be exhausting. The incredible crafts honed by artisans are often neglected and the final piece of art undervalued. Crafting requires a creative mind and a whole lot of patience! I for one hugely appreciate the work of all artisans near and far and not only love working with them to create my own pieces but I also love supporting, encouraging and promoting them as much as possible. The stories behind the crafting process are as wonderful as the outcome and any small irregularities are part of the journey the item has been on before it becomes yours.
Here are a few artisans and artisanal crafts I am particularly enamoured with and would love for you to know more about.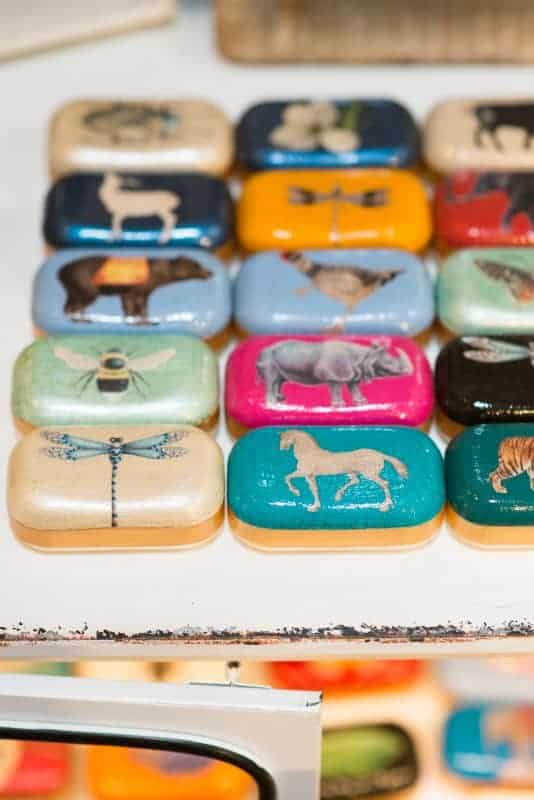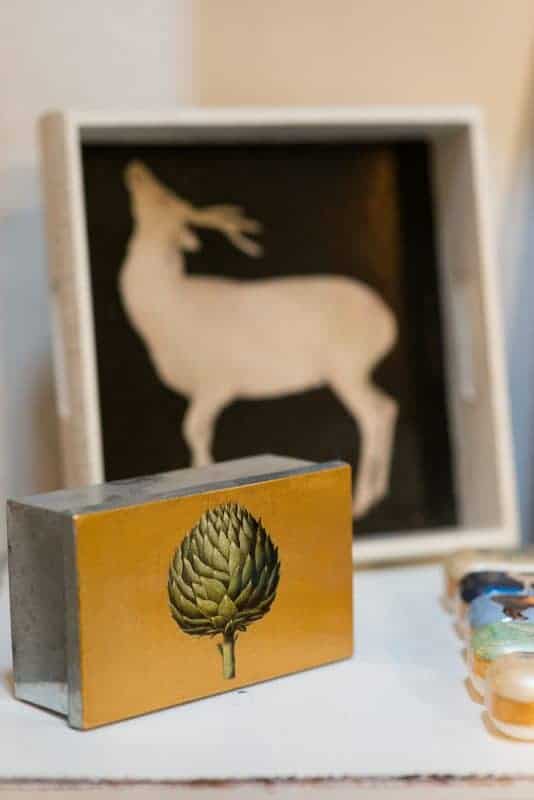 Decoupage. Handmade by artisan sisters in the UK, our collection of decoupage pieces is always a conversation starter. For those of you who aren't familiar with decoupage, it's a decorative art dating back to the 12th century. A picture is meticulously cut out and applied using many layers of varnish, creating a final effect that is so perfect it looks as though it has been hand painted. A favourite of mine are the decoupaged soaps; soaps so pretty you won't want to use them, but you can! Each one takes quite a few hours to make and they are the perfect gift. Pop by to see the coasters from the same artisans as well as the beautiful vases, pots, boxes and bowls.
SHOP CANDLES, SOAPS AND SCENTS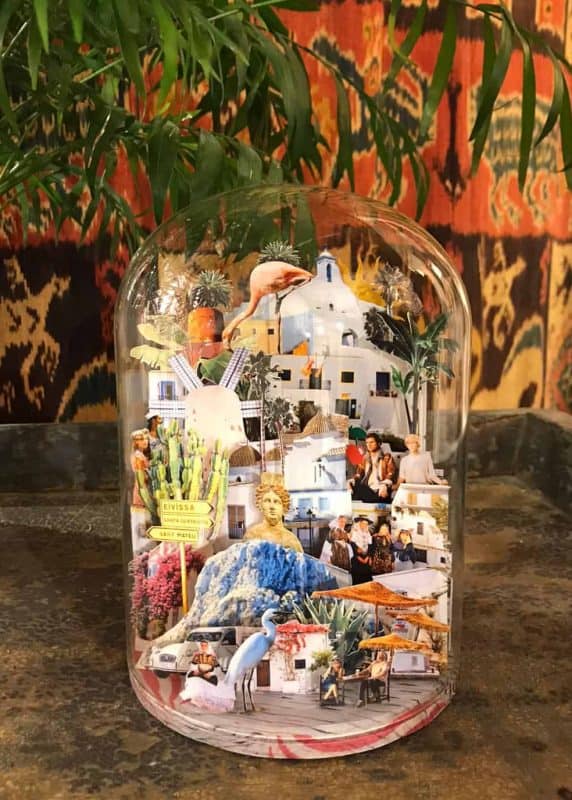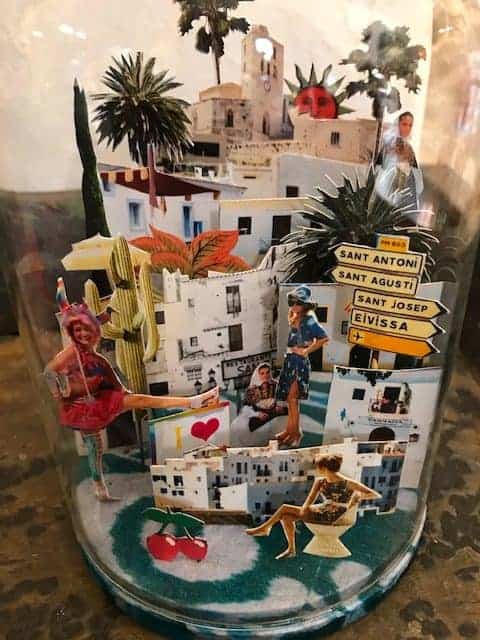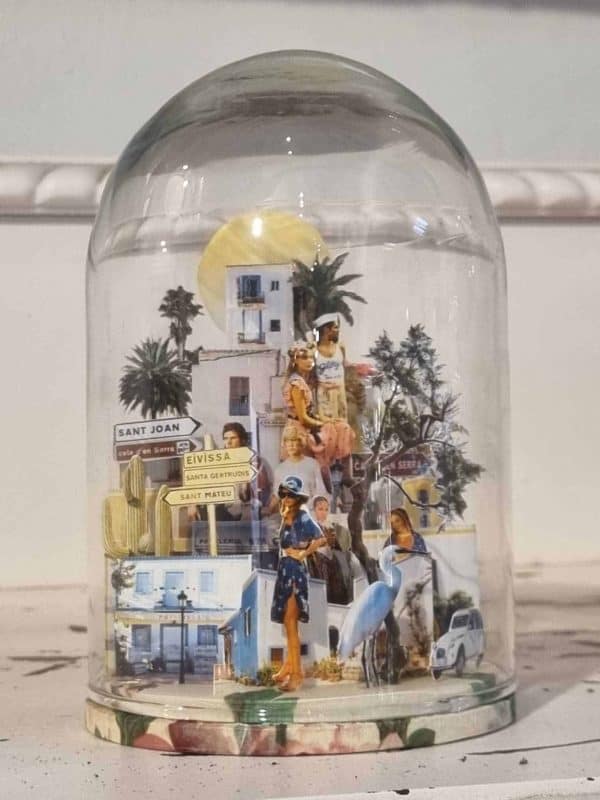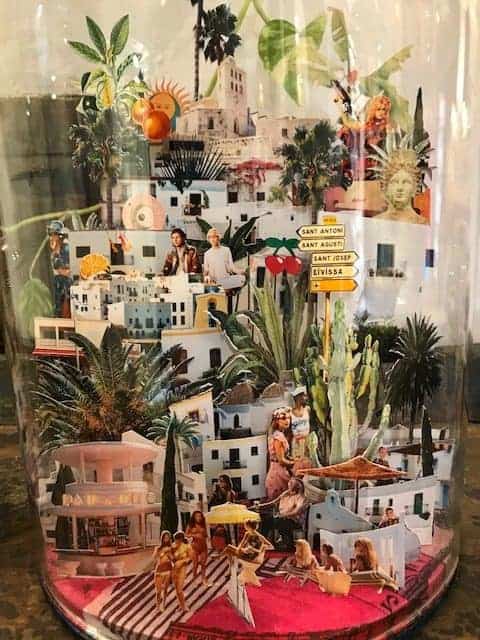 Paper-cut Domes. These domes are breathtakingly beautiful. A whole paper cut village is created inside a glass dome, with pictures of our favourite landmarks in Ibiza. Made exclusively for us, these Ibiza domes feature iconic venues in the including the lovely villages of San Joan and our very own Santa Gertrudis. Paper-cut pieces are mounted onto wire to create the 3-d effect of the village and the whole scene is forever encapsulated inside a glass dome – spectacular and such fiddly work! Available in 3 sizes, pop in to choose your favourite. The perfect centrepiece for your coffee table or mantelpiece.
SHOP UNIQUE PIECES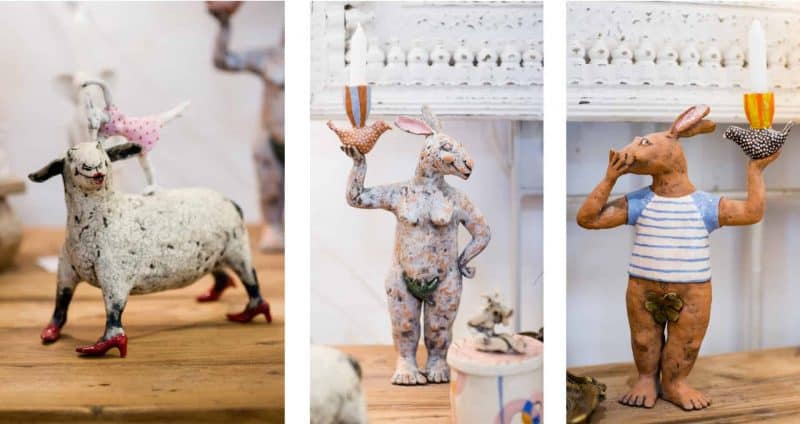 Laurance. Fascinated by the endless possibilities of clay, Laurance's visions shine through in her amazingly quirky and fabulous pieces of pottery. Greatly inspired by cultural travel through lands afar, Laurance not only moulds her pieces but also hand paints them. Each design is brought to life through consistency and colour and each one is somehow more wonderfully whimsical than the next.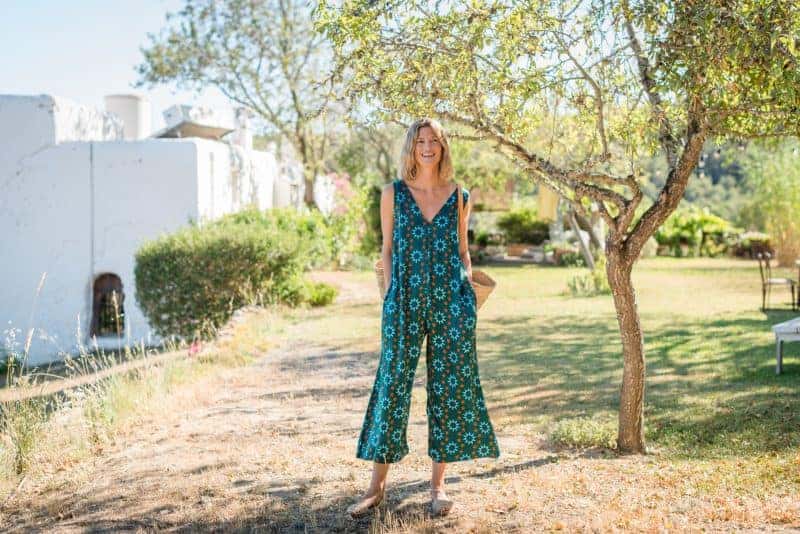 Block Printing. What an astonishing craft! I will never tire of the beauty of hand block printing. Many of you may not fully know about the amount of work that goes into a hand block printed item before the final piece is ready. Hand block printing is predominantly a 5-step process and requires the input of 5 different artisans. If you take a dress for example, it will have been stitched by one artisan, hand dyed by another, hand block printed by a third, quality controlled by a fourth and the design of the prints is done by yet another person! Our hand block printing can be seen on many of our pieces, including the very pretty collection we curate every year with the Women's Interlink Foundation in India – a whole team of skilled artisans who have been rescued from an underprivileged life and taught a trade. Read more about block printing and about WIF here.
SHOP THE WOMEN'S INTERLINK FOUNDATION
Ibiza Espadrilles. The island of Ibiza has a magic of its own. It has been the muse of many an artist and artisan over the years and has been the birthplace of many a wonderful craft. High on our list of artisanal delights are the Ibiza Espadrille Sandals. The perfect footwear for island hopping in floaty Bohemian dresses or shirts & shorts. They are handmade true to a traditional island craft. They have a rounded toe and can be fastened with the Roman strap closure. The string technique allows your feet to breathe and because they are so light, it feels like you are walking barefoot! Worn by the traditional, folkloric "Ball Pagès" dancers, these lovely sandals are inspired by the light, the sea and the Ibiza breeze and each pair is meticulously worked from natural cactus fibres and has a rubber soul. Passed down through the generations, this is a local artisan craft that we feel is important to keep alive, not only because we love the sandals, but also because it is an incredible craft.
SHOP BAGS, PURSES AND SHOES
If you are a creative soul yourself or know someone who is, please do encourage them to bring their ideas to life. If you're looking for inspiration don't hesitate to pop in to La Galeria Elefante or come and spend a crafternoon with me in my studio in the hills. Together we can keep crafts alive and support artisanal talent.