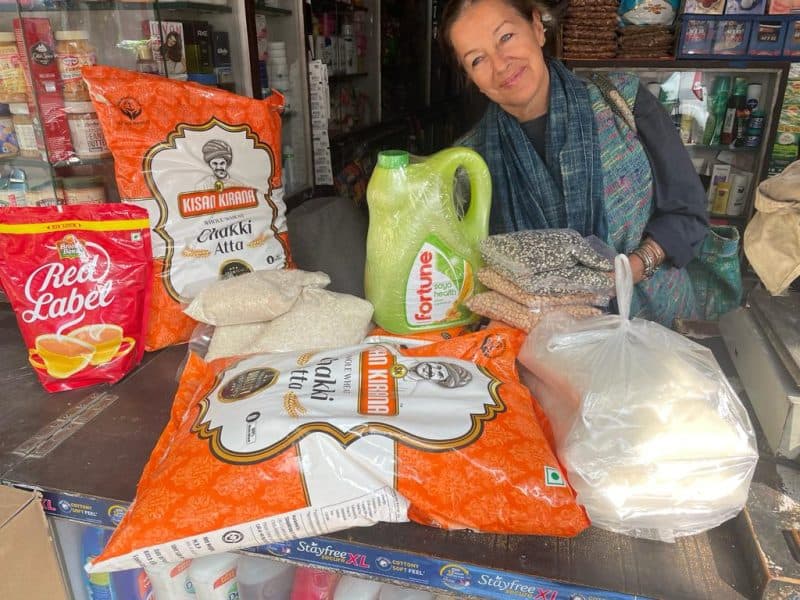 You have returned from incredible looking travels, can you tell us where you went first?
I went to Delhi first, working with the artisans and
NGO
(SEWA) for the first 5 days, and then on to Jaipur to work with artisans on hand block prints and also some recycling.
You donated food to a Leper Colony, can you tell us more about the experience and why you choose to do this?
Very sadly and suddenly I heard the news that my brother died on my arriving to India and so I decided to go to the Monkey temple to do a blessing for him as I wasn't going to be able to get back for his funeral. I wanted to give something in his honour and the leper colony is something close to my heart so I bought provisions for them and they were so grateful and happy – it was deeply touching… and so sad these people still suffer with leprosy.
When shopping in India, what are you looking for? 
Fabrics, interesting crafts, beautiful textiles with lovely
hand block prints
, paper crafts, jewellery and the makers of all beautiful things!! The world of artisans in India is extraordinary and so inspiring and beautiful to see.
What new items can we expect to see in La Galeria Elefante from this trip? 
A beautiful collection of cotton and silk dresses made from recycled saris in some of our signature styles. More
paper scrolls
in different prints, lovely
jewellery
and some amazing ponchos made with a patchwork of mixed wool shawls!
What do you love most about India and why? 
Artisans – creativity and the inspiration that one absorbs daily! Plus all the colourful things you see everywhere… and then a washing line full of white saris in the middle of the road behind the Jain temple – the Jain nuns only wear white – round every corner is a treat for the eyes – there is always something!
Your next stop was Kenya, what made you choose this destination? 
For a holiday – sun/sea and then safari… always been attracted to seeing and feeling a large space where animals roam in freedom in the wild. I hadn't done such a safari before and will definitely repeat this. Also, we did a tree planting ceremony at my wonderful friend Carolyn Roumeguere's place, to honour my brothers life and his love for Kenya.
The accommodation looked wonderful, can you tell us more about it? 
Fuzz´s camp
is situated in Borana near Nanyuki and Lewa in Laikipia. The camp is small and private, owned by Fuzz Dyer and his wife Bimbi. It has a lovely comfortable sitting room-lounge, an outside bar and a large dining mess tent. There are 5 luxurious tents with private bathrooms and terrace areas and super comfy beds!
The large fire pit is lit at night and early morning and the day starts with a very healthy and hearty breakfast and plans for the day ahead. There are a few options – to go riding with Bimbi (Fuzz's wife) – she has 24 horses and can take you on amazing rides with 2 rangers in case of lions and explore the land on horseback, or go for walks and trekking with Fuzz – or otherwise sit in his comfortable open Land Rover and drive around the large open space – where Fuzz points out all the wild animals, especially the various different types of antelope, and there are always giraffes, elephants (many babies), baboons, zebras, rhinos, buffalo, gazelles, eilans, kudus, and many more antelope and the fabulous amount of beautiful and amazing birds – including the tawny eagle and the marshal eagle – which literally made my mouth drop and spent most of the day looking more goofy than usual!
The land itself is where Disney came and had the inspiration for the movie:  Lion King and you can see the famous "Pride rock" and the incredible rocky area and river that is also in the movie. It is also where David Attenborough has made documentaries on several occasions. The land is simply vast and so spacious and full of wild animals.
Fuzz is a director and conservation specialist and established the first black rhino sanctuary in Lewa, the property next door. The camp is a way for him to fund his conservation programmes and also help schools in the local villages. And it is worth every penny.
We loved it and plan to return!

Finally did you buy anything new for La Galeria Elefante in Kenya? 
More Masai pieces, beaded bracelets, baskets and kikoys (the cotton sarongs) as well as glass engraved bottles – plus a potential project with amazing artists that used to work with Peter Beard in Nairobi.