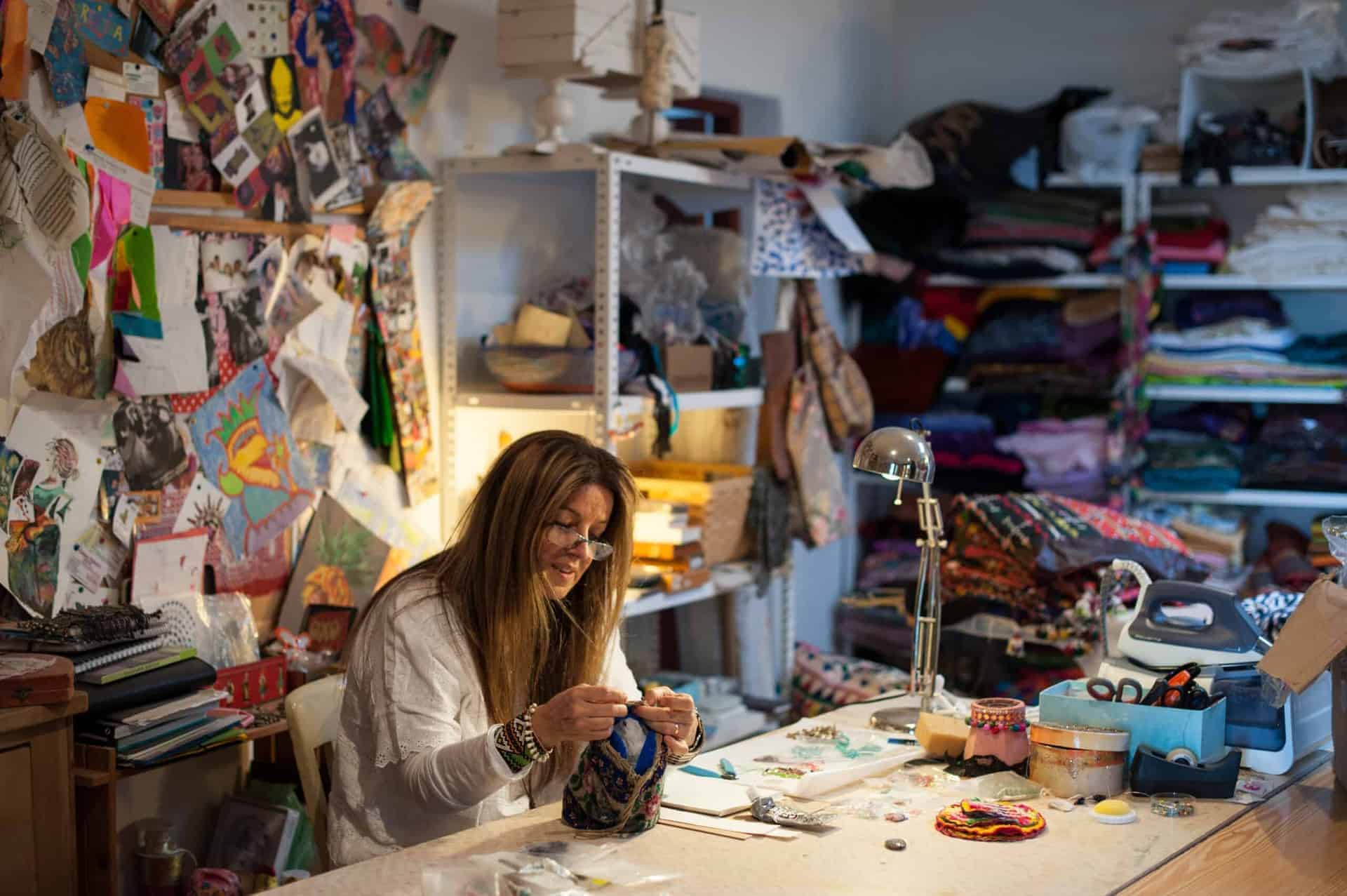 Home. Such a different place for us all now, as we learn to adapt and manage our lives in this temporary lockdown, wherever we are. Without any social life or other places to go, our homes have literally become our everything. The space where we are 24/7. The space that holds all. The space in which we relax, connect with our families, work, create, dream. My Ibiza life in lockdown is with my husband François, a doctor and epidemiologist, our son Emile, a musician and photographer, and our spirited dog Pluto. We all usually travel a lot for our work. It's a very different reality now to the trip I had planned to India end of March, to finalise our summer collections, oversee the second collaboration for
John Lewis
, and start a new project with an NGO empowering young women. So I'm finding new ways to keep occupied.
I wake up around 7am to the sounds of birds and with a cup of hot water and squeezed lemon picked from our tree, I wander barefoot in my pyjamas into the garden. We're very blessed and eternally grateful to live in Ibiza and love our home which is a 17th century old finca (farmhouse) in the middle of the countryside, surrounded by sheep and pine trees, with a fabulous panoramic view of the valley and hills beyond. We have renovated and restored the property using local materials: stone for our one metre thick walls, and olive and juniper wood beams for the ceilings. It has a cosy feel, styled by me with unique crafted textiles, art and furniture from the shop and sourced on my travels, perfect for lounging comfortably and dreaming (my speciality!).
Sipping my hot lemon, I stroll amongst our newly planted vegetable patch and ponder what I plan to do that day. Once dressed, I take Pluto for a walk around the property and neighbouring ruin. This is my hour for contemplation and meditation. To empty my head. Then it's yoga via Zoom with my dear friend, yoga teacher and mermaid-swimming partner Vivianne. It's the best start to the day, to feel balanced, stretched and grounded. Afterwards breakfast and coffee with François and back on Zoom for a work meeting. Zoom has opened up an amazing new virtual world for so many – for self-care, working, connecting with family and friends and even sharing dinner dates.
From my studio in the pine forest, I've been loving slowing down and getting creative to keep grounded and focused. Painting with oils, decorating branches for display and taking this unique opportunity to update our website with the support of my wonderful Elly team. With the new focus on our homes, we are expanding our
homeware
collection available online and in the Ibiza shop, which we hope will be able to re-open soon. We have some incredible pieces to share with you, to suit all budgets and are still delivering worldwide, helping to transform your homes. You may also find our
styling services
 to be useful, so do get in touch if you'd like me to help you re-create the laid-back, colourful, bohemian look typical of
La Galeria Elefante
in your own home and garden.
It's at this time of year that the island is in full Spring bloom, with carpets of brightly coloured flowers stretching across the fields and am so grateful for the smell of pine and waking up to bird song. I wake up counting all the different sounds and it's inspired me to find out more about the different local species. Everything feels slower now and detached from previous routines. As a family, we have spent time chitchatting, cooking together, listening to Emile play his guitar, generally lounging, doing yoga together and dreaming.
Embracing this time for new patterns and ideas to settle and to keep a fresh and open heart and mind. Time for deep reflection and to reconnect to our own personal values. I have personally enjoyed researching other women's NGO projects that we can support in the future, to empower women and artisans. One close to my heart is an NGO focused on educating young women in India on issues regarding menstruation and helping the supply of sanitary towels so that girls can go to school and not feel ashamed. I'm excited to share more with you when this is all set up.
One of the beautiful gifts we have all witnessed in lockdown has been the genuine care, love, encouragement and nurturing for humanity that everyone has shown – either on social media, the public workers and medical teams or our neighbours. Looking ahead, I do hope this time we've had to pause and reflect will see us continue to be compassionate with each other and more respectful of Mother Earth and her seas. I've watched numerous videos of dolphins playing close to the shores here and even in the harbour in Ibiza town. How amazing! I long for the moment when we're allowed to visit the beaches and swim again or go boating in our old wooden fishing boat.
I leave you with a couple of small gifts from my family – a playlist prepared by Emile, and our favourite vegetarian recipe for Springtime, our Spring Vegetable Parsley Pesto Tart.
Sending love, courage and strength from the top of our hill to you all.
Stay safe.
Victoria
xxxx
Playlist by Emile
Quentin Quarentino
Spring Vegetable Parsley Pesto Tart
INGREDIENTS:
375g Ready Rolled Puff Pastry
4 new potatoes – thickly sliced
½ head broccoli – broken into small(ish) florets
1 leek – thickly sliced
8 asparagus spears – woody ends trimmed and sliced into 5cm lengths
100g fresh or frozen peas
4 spring onions – thinly sliced
200ml double cream or soya cream
40g bunch fresh parsley
Zest of 1 lemon
2 tbsp pine nuts
½ tsp salt
½ tsp vegetable stock powder
A little milk or soya milk to glaze
METHOD:
Unroll the pastry and roll it a little more thinly to create a slightly longer, thinner rectangle, then cut it into two equal sized rectangles.
Line a large baking tray with greaseproof paper or baking parchment, and place one of the rectangles on the tray, leaving the other aside for now.
Bring a large saucepan of water to the boil, then add the sliced potatoes.
After they've been cooking for 4 minutes, add the broccoli and leek.
After a further 4 minutes, add the asparagus and peas, then after 2 minutes, remove from the heat, drain & return to the saucepan, add the spring onions and set aside to cool.
In a hand blender or food processor, blitz the cream, parsley, lemon zest, pine nuts, salt and stock powder together into a sauce. Pour the sauce over the vegetables, and stir to combine until all the vegetables are evenly coated.
When they are cool, carefully pile the vegetables into the centre of the pastry, leaving at least 2cm border around the edges. If there is some creamy sauce in the bottom of the saucepan, pour this into the centre of the pile of vegetables so that it doesn't spread to the edges of the pastry. Brush a little water around the edges of the pastry, then place the second rectangle of pastry over the top.
Press the edges together firmly with your finger to seal together, then use a fork to crimp the edges to make it look pretty. Use the back of the blade of a sharp knife to gently score lines in the top of the pastry, then brush the whole lot with milk or soya milk.
Bake in the oven for 25-30 minutes until golden brown and the pastry is cooked
throughout.
Enjoy!